The West Mifflin Borough Police Department is asking for assistance in identifying the persons in the attached photograph/s.
This is relative to an open, ongoing case.   We are unable to release any information at this time.
We will release more information on this page as we are able to. If you have any information relative to these individuals, please contact the West Mifflin Borough Police Department at (412) 461 3125, call your local Police Department, dial 911, or use our tip page.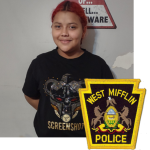 The West Mifflin Police Department is attempting to locate a missing person.Irma Vigil. Vigil is a 13-year-old female with her hair dyed half black and half red. Vigil is 5'3" tall and approx. 150 lbs. Vigil was last seen on December 13, 2022, at her residence in West...
read more