West Mifflin Borough Police Department
1020 Lebanon Road West Mifflin Pa 15122
Ph: (412) 461 0600 Fx: (412) 461 3944
Our online Warrant Board lists individuals currently wanted by the West Mifflin Police Department.
West Mifflin Borough is home to government, commercial, and private entities that need restricted airspace.
Learn more about Unmanned Aircraft System ("drone") use in the borough.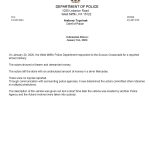 On January 30, 2020, the West Mifflin Police Department responded to the Sunoco Crossroads for a reported armed robbery.
The actors showed a firearm and demanded money.
The actors left the store with an undisclosed amount of money in a silver Mercedes.
There were no injuries reported.
Through communication with surrounding police agencies, it was determined the actors committed other robberies in multiple jurisdictions.
The description of the vehicle was given out and a short time later the vehicle was located by another Police Agency and the Actors involved were taken into custody.
read more
The West Mifflin Borough Police Department – serving and protecting West Mifflin Borough, a heavily residential area, West Mifflin is home to one of America's oldest traditional amusement parks, Kennywood Park; the fourth largest shopping mall in the region, Century III; advanced naval nuclear propulsion technology research and development facility, Bettis Atomic Power Laboratory; monorail manufacturer Bombardier; US Steel's Mon Valley Works – Irvin Plant; Community College of Allegheny County's South Campus; the Allegheny County Airport; and various other businesses and industries.